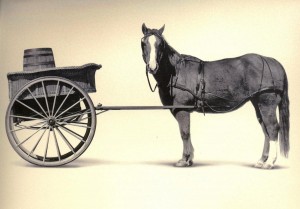 When Doug and Sue found their dream home and asked if they could make an offer. They were so excited until they lost out on the home because they were not pre-qualified. Many first time homebuyers make the mistake of putting their cart before the horse when starting to search for their first home by looking at houses and then talking to a lender
The road to homeownership for many people often begins with taking a few baby steps and a number of different directions.  Maybe it started by following the signs to an open house and seeing the price tag you're scratching your head wondering, "Can I afford this?" or, if you are technologically savvy and hip to the world of information online, your regular visits to real estate websites show you hundreds of homes at your fingertips.
If this describes you congratulations! You're doing a lot more than most people.  However there are also many families taking the same approach.  If you want to take the first step on the road to buying a home with the best footing in the housing market in Sacramento I recommend following my simple advice: TALK TO A LENDER FIRST!
In fact I'm going to make it very easy for you to begin that conversation.  Plan on attending my class on Wednesday, May 18 and you will be introduced to a licensed mortgage professional who will be sharing his expertise and available to answer your questions.  Begin a conversation with Sean Krause from Big Valley Mortgage.  He will show you how to get your funding together offering you the best terms and lending products that make the most sense for your finances.
Don't be like Doug and Sue, the nice young couple who fell in love with their dream home before they realized they could not afford it.
http://sacramento.pressplayrealty.com/wp-content/uploads/sites/3/2017/06/Haynes-Logo-Orange-White_kwfolsom_553x78.png
0
0
tyler
http://sacramento.pressplayrealty.com/wp-content/uploads/sites/3/2017/06/Haynes-Logo-Orange-White_kwfolsom_553x78.png
tyler
2016-05-10 13:48:47
2018-06-15 09:13:38
Don't Put Your "Cart Before The Horse" When Buying A Home